Aerial yoga teacher training
Aerial yoga teacher training
Two weekends – 16.03.2024, 17.03.2024 and 20.04.2024, 21.04.2024
30h basic training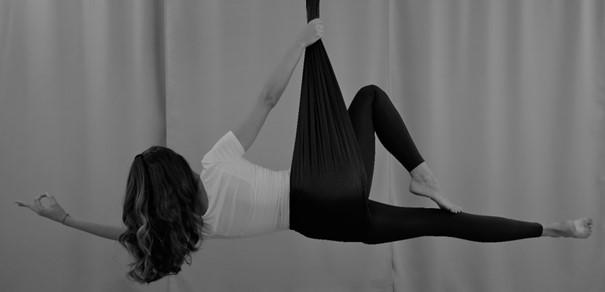 During this basic training you will learn how to plan and teach diverse and safe aerial yoga classes. The focus of this training lies on the different aerial poses, how to combine them into a creative flow and thus create a calm yet challenging class. During the course, you will get to know different aerial yoga styles, including the opportunity to take part in an aerial yin class. This should encourage you to develop your own aerial yoga style. Between the two training weekends you will have time to further develop your aerial yoga skills. We therefore recommend that you order your own Aerial Yoga silk after the first training weekend so that you can practice at home.
Training content:
– Deepening your own aerial yoga practice
– Components, set-up, and care of your equipment
– Preparations – health checks
– Key points for the students
– Key points for you as a teacher
– The structure and sequencing of an aerial yoga class
– Basic postures and holds
– Adjustments
– Safety in the silk
– Legal aspects
Aim
The training consists of theoretical and practical lessons as well as exercises for self-study, so that each participant is able to give creative, well-founded and above all safe aerial yoga lessons after the training. The time for the self-study is not implied within the 30h. It is very important to us that you practice what you are going to teach. It is therefore advantageous to attend aerial yoga classes before the training or to have practiced with your own aerial yoga silk so that you already have a certain feeling for handling the silk. The training is therefore divided into two weekends so that you have the opportunity to practice between the blocks and familiarize yourself with the sling. At the end, each participant takes a short theoretical and a practical exam. After passing the exam and attending 100% of all classes, each participant receives a certificate which entitles them to teach aerial yoga. Aerial Yoga is license-free and not bound to any further obligations (updates, license payments, etc.).
Requirements
The requirements for receiving the certificate are a successfully passed exam and a completed yoga / Pilates / dance / trainer or comparable bodywork training with at least one year of yoga practice.
Yoga teachers
The training is led by Nadine Tinker and Jeremiah Tinker. Nadine completed her yoga teacher training in 2018 and then completed various further training courses as a Yin Yoga, Stand Up Paddle Board Yoga and Aerial Yoga teacher. She taught in various studios until she finally fulfilled her dream of her own yoga studio with Jay and opened the Secret Garden Yoga Studio in Basel in April 2023. Her aerial yoga classes are playful and varied. Jay is currently completing his yoga teacher training and assists in the aerial yoga classes, which has allowed him to gain a lot of experience, especially in the areas of safety and adjustment.